Our expertise is centred on maximizing energy yields through Standard design and selection of quality-good components. We guarantee our designs and implement the procurement strategy as Owner's Agent as well as we suggest the owner to appoint Installation contractors. We coordinate, supervise, and manage construction activities undertaken by the Installation contractor.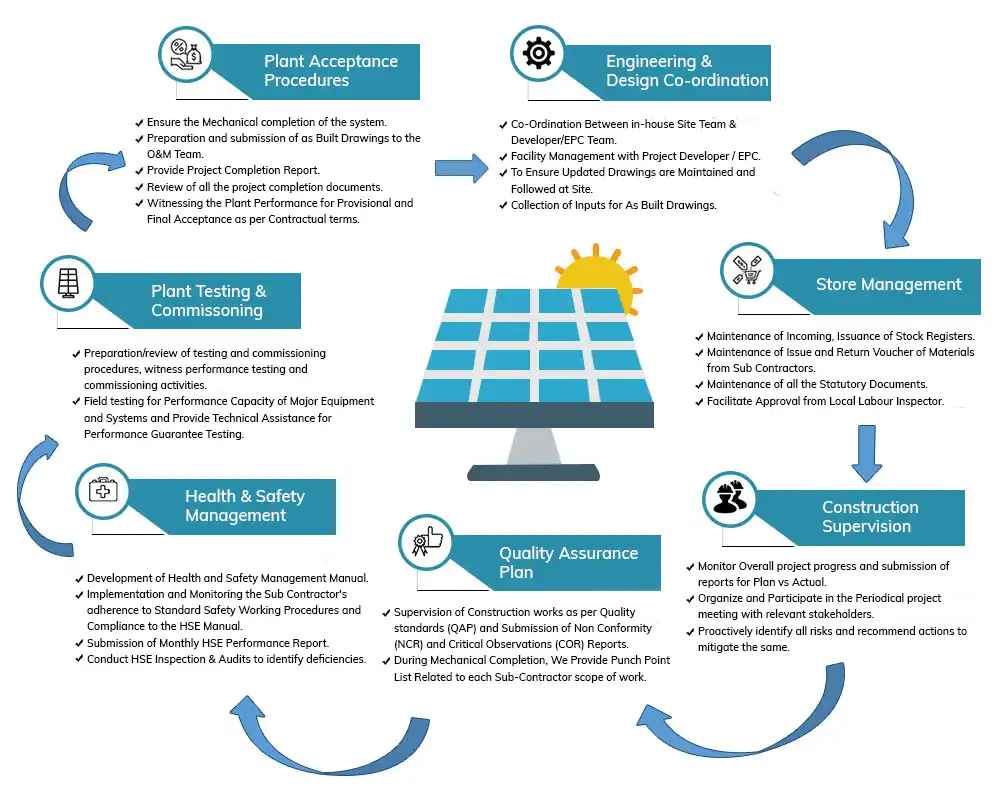 Engineering & Design Co-Ordination
Design & Engineering Co-ordination between in-house site team and Developer/EPC team.
Facility Management by visiting site along with developer/EPC to overcome the bottlenecks and communication protocol.
To ensure updated drawings are maintained and followed at site.
Collection of Inputs for As-Built Drawings.
Store Management
Maintenance of Incoming, Issuance of Stock Registers
Maintenance of Issue and Return Voucher of Materials from Sub Contractors
Maintenance of all the statutory documents
Facilitate Approval from Local Labour Inspector
Construction Supervision:
Monitor overall project progress and submit the Daily, Weekly and Monthly reports for Plan Vs Actual
Organize and participate in the periodical project meeting with relevant stakeholders.
Proactively identify all risks and recommend actions to mitigate the same.
Quality Assurance Plan:
Supervision of construction works as per Quality standards (QAP) and submission of Non Conformity (NCR) and Critical Observations (COR) Reports.
During Mechanical Completion, We Provide Punch Point List related to each Sub Contractor scope of work.
Health and Safety Management
Development of Health and Safety Management Manual
Implementation and Monitoring the Sub Contractor's adherence to Standard Safety Working Procedures and Compliance to the HSE Manual
Submission of Monthly HSE Performance Report
Conduct HSE Inspection & audits to identify deficiencies
Plant Testing & Commissioning
Preparation/review of testing and commissioning procedures, witness performance testing and commissioning activities
Field testing for performance capacity of major equipment and systems and provide technical assistance for performance guarantee testing
Plant Acceptance Procedure
Ensure the Mechanical Completion of the system
Preparation and submission of As Built drawings to the O&M Team
Provide Project Completion Report.
Review of all the project completion documents
Witnessing the Plant Performance for Provisional and Final Acceptance as per Contractual terms.