"We Secure The Mileage Of Your Project"
Constructing and Commissioning a well-designed plant is a half-done job. A well designed and installed PV grid-connected system should have a fault-free operation for many years. Timely Yields and profits to investors' expectations, can be realized only through the healthy functioning of the plant. We take care of the health of plants through skilful Operations and Maintenance solutions to ensure top-notch performance and maximum production throughout its entire lifetime.
Be it single or multiple sites, we offer tailor-made services from small rooftop systems to large utility-scale systems. Our well trained and dedicated O&M team will ensure system up-time and maximize the performance ratio – thereby maximizing return on investment and monitor through numerous evaluations as per international standards. We command an all-seeing eye over the project to detect and our techie will inspect and improve even the slightest slag in the performance of the solar system.
We Guarantee on Performance Ratio, Plant Uptime and Response time
Maintenance and Inspection
Remote Monitoring and Control
Ensuring operative availability 24/7 and the PR
Corrective maintenance
Monitoring and reporting
Spares Management
On-Site Security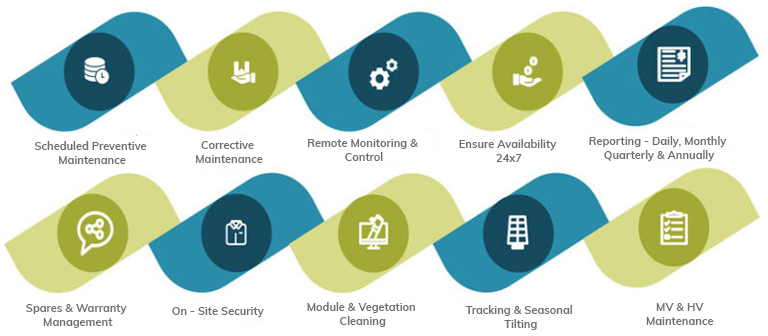 Our Scope of Services Includes:
Take over plant with proper HOTO Procedure and Checklist
Maintain Standard Operating Procedure for Plant Start-up and Shutdown
Maintain Daily/Monthly/Yearly Checklist to ensure Healthiness and safe Operation.
Daily Plant Report with Generation, Performance and Breakdown analysis
Scheduled Preventive Maintenance as per SOP
Corrective Maintenance in short with Breakdown & Correctness report
Real-time Monitoring to maximize the generation
Guaranteed Plant Availability of more than 98.5%
Minimized Response time
Guaranteed Performance ratio as per contract
Ensuring 24X7 Operative availability
Monitoring and Reporting – Daily, Weekly, Monthly, Quarterly and Yearly
Spares and Warranty Management
Round the clock Site Security service
Regular Module Cleaning
Regular Vegetation Cleaning
Manual Seasonal Tilting
MV/HV Maintenance