100 MW(AC) and 110 MWp(DC) – Pudur, Tirunelveli, Tamilnadu (One-Stop Service Provider to EPC)
Location:
Pudur, Tirunelveli, Tamil Nadu, India
Capacity:
100 MW(AC) and 110 MWp(DC)
Client:
NLC India Limited
ACE Renewtech Engineering Private Limited is engaged for Premier Solar's project by BVG India Ltd., as the end-to-end service provider – Design & Detailed Engineering Services, Construction Management Services, and Quality Assurance Services for NLC's Solar Power Project as a part of the 709 MW project announced by the Prime Minister of India.
Project Highlights:
Project Size: 100 MW(AC) and 110 MWp(DC)
Project Type: Ground-Mounted, Utility Scale & Open Access
Location: Pudur, Tirunelveli
Developer: NLC India Limited
EPC Contractor: Premier Solar Tech
Area Covered: 350 acres
Project Completion: 2019 Sep
Scope:
Design & Detailed Engineering
Construction Management Services
Quality Assurance Services – Vendor Inspection and Site Quality Management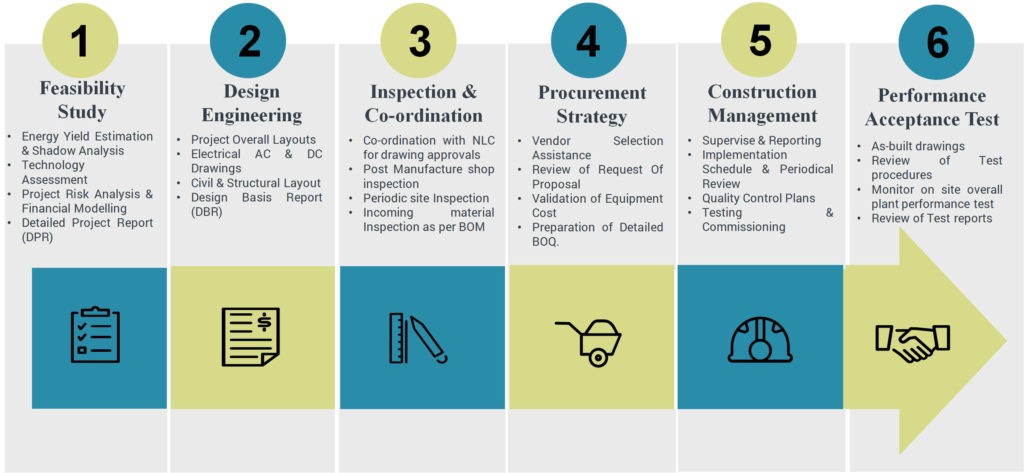 Some of the Major Milestone's Achieved:
An Appreciation for our Flawless perseverant work in the previous 100 MW
Completed Detailed Engineering in 30 Days along with NLC India approval thanks to our previous experience of 100 MW and continuous 24×7 effective hard work.
Construction Management is done with 30+ Engineers with constant Interaction on the updates by virtue of daily reporting and day & night working.
Constructed TANGEDCO Switchyard in the span of One Month with essence and made Power evacuation ready in 60 days from Zero date.