100 MW (AC) and 113 MWp(DC) – Tirunelveli, Tamilnadu(One-Stop Service Provider to EPC)
Location:
Maranthai of Tirunelveli District, Tamil Nadu, India
Capacity:
100 MW (AC) and 114 MWp(DC)
Client:
NLC's Solar Power Project
ACE Renewtech Engineering Private Limited had the privilege of providing in end-to-end services – Pre-Feasibility Advisory Services, Design & Detailed Engineering Services, Construction Management Services, and Quality Assurance Services for NLC's Solar Power Project as a part of the 709 MW project announced by the Prime Minister of India.
Project Highlights:
Project Size: 100 MW (AC) and 114 MWp(DC)
Project Type: Ground-Mounted, Utility Scale& Open-Access
Location: Tirunelveli, Tamil Nadu
Developer: NLC India Limited
EPC Contractor: LNV Technology Limited
Area Covered: 370 acres
Project Completion: 2019 Jul
Scope:
Pre-Feasibility Study with Land selection
Pre-Bid Engineering
Design & Detailed Engineering
Construction Management Services
Quality Assurance Services – Vendor Inspection and Site Quality Management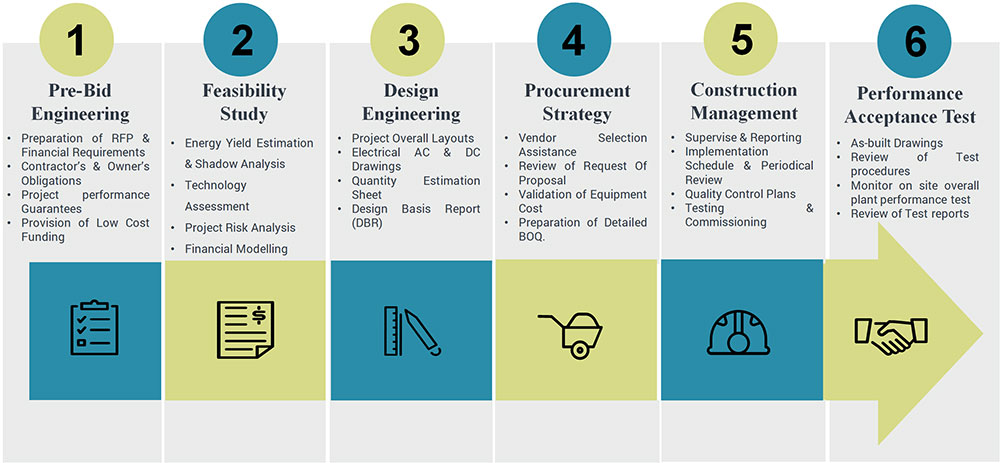 Some of the Major Milestone's Achieved:
Raved the Solar PV Service-Provider with 100 MW Debut and achieved the 'Best Project' status from NLCIL
With Pre-feasibility study, Successfully facilitated our client LNVT to acquire 382 Acres of Land in a single stroke
The backbone of our client LNVT's Pre – Bid Engineering Preparation & Cost Optimization
Succeeded in making our clientLNVT as L1 Bidder in their Debut Solar Contract
Undertook Construction Management Services with Quality Supervision at the site with the perseverance of 20+ Engineers
Working with Navaratna Organisation like NLC India, which involved extensive solar PV engineering and strict adherence to quality standards along with the adoption of technological methodologies to ensure project lifetime, we flourished project construction methodology in terms of stringent specifications and quality adherence of equipment and construction.
24 x 7 Coordinated with NLCIL along with timely vendor Inspection services to ensure timely project progress.